Your Hyrell ATS provides the ability to exchange and attach files throughout various stages and steps of your hiring process as well as manually. When files are sent by system users and received in reply from applicant responses, they will be located in the dedicated Attachment section in each Applicant File. The only exceptions are for an applicant's attached resume and/or cover letter. Though attachments, they can be found in their respective sections.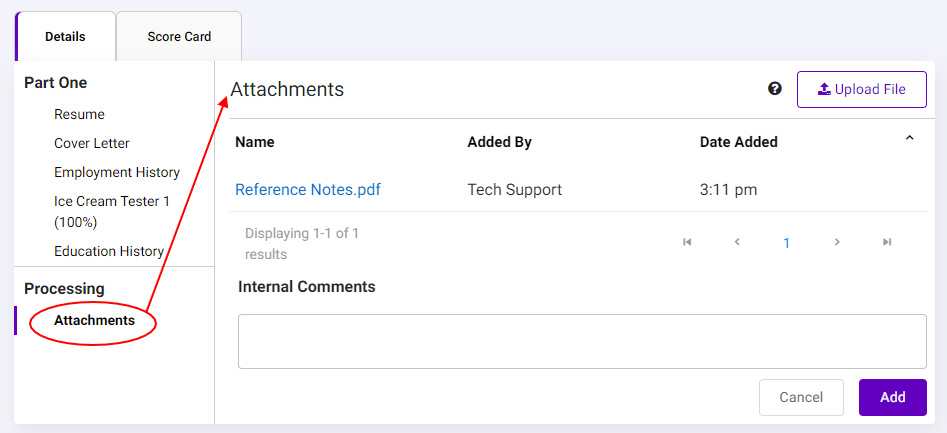 Attaching Files
Files can be attached from anywhere there is an Add Attachment button. The following locations include the ability to attach a file:
Attach a file to a Message Template so it's used in assigned Workflows by default when triggering a step.
Individually attach one or more files on demand at the time of sending a Workflow-based message to an applicant.
Attach a file when sending a standard applicant message.
Attach a file when sending a bulk message via the Applicant Queue.
Users can select "upload file" to manually add an attachment to an applicant file.
File Attachment Requirements
File names are limited to 255 characters.
Accepted file types include: .doc, .docx, .pdf, .rtf, .txt, .xls, .xlsx, .jpg, .jpeg, .png, .gif, and .tif.
The size limit for any singular attachment is 5MB.
The aggregate size limit for an entire message is 20MB worth of attachments.
Applicant Responses with Attachments
An applicant can include an attachment with their response if the message was originally sent from the Applicant Message tab in their Applicant File. Once an applicant receives the email, they can click the "Click to reply" link in the body of the message and use the Add Attachment button to attach a file.
Download Attachments
The dedicated Attachments section in every applicant file shows all attached files in one location. Users with permissions can view all available attachments for an applicant and download them if needed.