You've spent time developing loyalty to your brands. Use that brand recognition to your benefit by posting jobs on individually sub-branded career sites. Sub-Brands allow for companies with multiple public-facing brands to display them as desired to applicants yet collectively view them in your hiring site for processing. For example, a Senior Living facility can create a Sub-Brand for each facility, and under the careers section of your brand-specific website, provide the individual Sub-Brand URLs, which will show only those jobs belonging to that particular Sub-Brand.
Adding a Sub-Brand
Setting up Sub-Brands must be done by an Account Administrator.
Select Admin from the menu, Organization, and then Sub-Brands.
Click +Create New Sub-Brand.
Enter a Sub-Brand Name, which will become the new URL for your Sub-Brand.
Click the Upload Logo button to add your Sub-Brand logo.
Choose your theme color by adding the Hex or RGB numbers or using the color sliders.
Choose either black or white as your button text color.
Click SAVE to add the Sub-Brand and create the unique Sub-Brand Career Site URL. (e.g. jobs.hyrell.com/primary/subrand).
Note: There is only one disclaimer footer that is shared system-wide across your main Career Site, Sub-Brands, and the pages of each application. To view the existing text and/or make changes click Admin > Career Site.
Assigning a Sub-Brand to a Location
After adding a Sub-Brand to your hiring system, it must be assigned to one or more Locations within your Org Chart in order to be used for job postings.
Click Admin from the menu, select Organization, and then select Org Chart.
Follow the steps to +Add Location or click the ⋮ menu of an existing location and select Edit.
Assign a Sub-Brand to the Location by clicking an available brand from the Add to Sub-Brand drop-down.
Click the green checkmark to confirm the Sub-Brand assignment.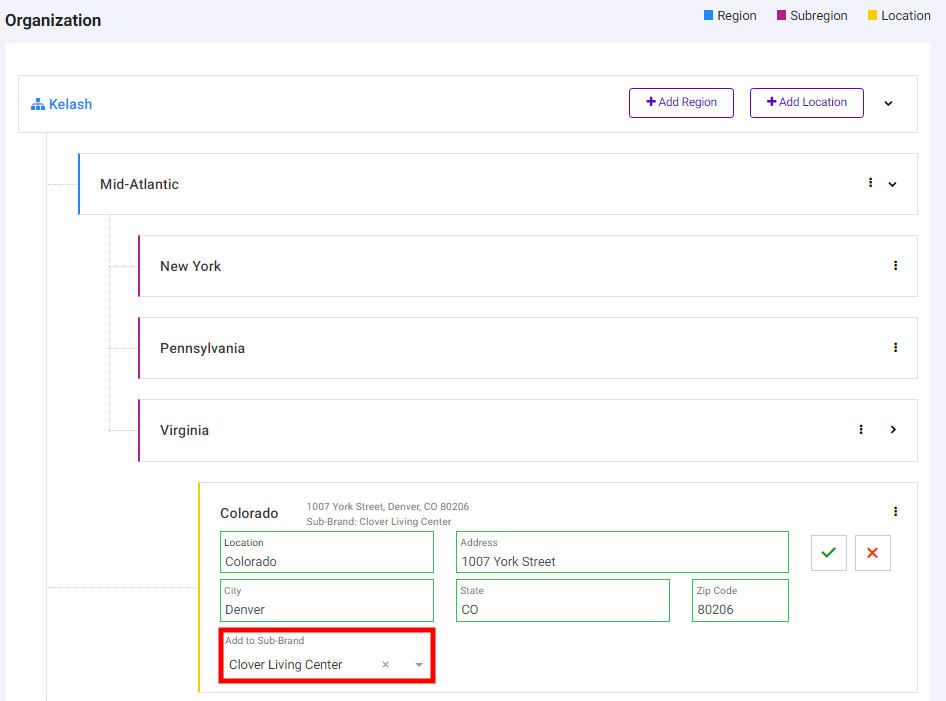 What is your Sub-Brand Career Site?
The Sub-Brand Career Site configured in your Hyrell applicant tracking system will display the posted jobs of your organization's Sub-Brand. The URL address of your Sub-Brand Career Site will contain your primary Hyrell instance, such as "SuperCo," followed by your Sub-Brand Name, such as "TopNotch," in https://jobs.hyrell.com/SuperCo/TopNotch. When logged in to your applicant tracking system, Account Administrators or users with permissions can find all Sub-Brand URLs in Admin > Organization > Sub-Brands.
Posting a Job to a Sub-Brand
When posting a job, the Sub-Brand should be selected in the Location drop-down field during Step #4 Post Job. If a Sub-Brand is assigned to a specific Location in the Org Chart, jobs posted to that Sub-Brand will show simultaneously on the primary Careers Site, the Sub-Brand Careers Site, and all active job board feeds. To keep the branding consistent, when applicants apply, they will see the logo and the theme of the Sub-Brand regardless of where they found the job, and the Sub-Brand will show as Company Name for job board feeds. See more about how to post a job.

Note: Since all applicants are collectively submitted to your applicant tracking system, emails delivered on behalf of Sub-Brands will continue to be sent using your primary Hyrell instance name or Company Name.
Related Articles: