Hyrell provides each Applicant Tracking System with the option to use Info Cubic, a fully integrated background check service. Since 2002, Info Cubic has provided a hassle-free background check experience for clients and their applicants. Their industry-leading turnaround times, world-class customer service, and mobile-friendly system help make background checks the easiest part of your hiring process. After you register and activate Info Cubic, you can initiate a background check and receive results from within a job applicant's file.
Creating an Info Cubic Account
Setup of Info Cubic is available only to System Administrators. Info Cubic requires an initial phone call or consultation for business verification in order to set up your account. Contact information for Info Cubic can be found in the Hyrell Marketplace:
Select Marketplace from the menu and then Background Checks.
Click Learn More on the Info Cubic card.
Review the Get Started section.
Info Cubic Activation
When you are notified that your company has been registered, an activation code will be provided by Info Cubic. When you enter the code, the Info Cubic integration will be activated automatically in your applicant tracking system.
Select Marketplace from the menu and then Background Checks.
Click Learn More on the Info Cubic card.
Select Activate Info Cubic, enter your Activation Code provided by Info Cubic at the time of registration, and confirm by clicking Activate Info Cubic.

If you do not have an Activation Code, you must get one directly from Info Cubic by contacting them at www.infocubic.com or by phone at 1-888-925-0922 and tell them you are a Hyrell customer.

If successful, the switch in the upper right corner will now be turned on and set to Active.
Follow the steps below to assign a background check step to your workflow and start using Info Cubic in your hiring process.
Using Info Cubic
Once activated in the Hyrell Marketplace, this service is ready to be added to one or more job applicant processing workflows. Adding Info Cubic as a step in a workflow makes it available for use in each applicant's file when processing the applicant using that workflow.
Assigning Info Cubic to a Workflow
Select Processing Elements from the menu.
From the Workflow, click the ⋮ menu and select Edit.
Insert a custom background check step:

From the desired stage, click +Add Custom Step and add a Step Name and Step Description.
Select Use Integration from the drop-down and choose Info Cubic from the list.
Rearrange the step order by dragging and dropping the steps within the stage.
Click Save to add this custom step to the Stage.
To finalize the Workflow edits, click Save.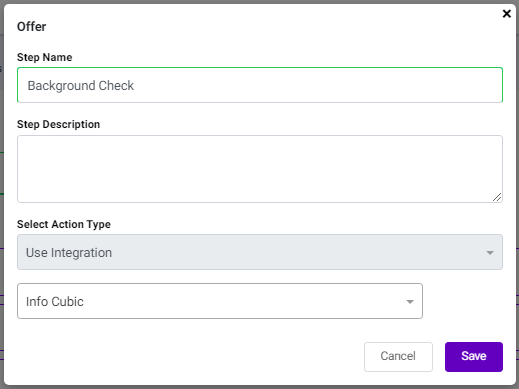 The newly created background check step will now be available for use in all applicant files using that workflow.
Processing an applicant with Info Cubic
When processing a job applicant using a workflow that contains an Info Cubic background check step, you'll be able to initiate the background check within his/her Applicant File. After initiating a background check, the candidate is notified by an Info Cubic email with details on how to complete the required background check information. On average, once received, Info Cubic performs the selected check with an estimated turnaround time of 24 hours or less depending on the depth of the search. Info Cubic will return the results directly into the applicant's file, and authorized users will receive a notification when complete. If desired, members of the hiring team with permissions can view the report from the Applicant File or in Info Cubic.
Read more about the steps to Initiate a Background Check with Info Cubic.
Deactivating Info Cubic
If Info Cubic is deactivated, applicants with pending background checks in progress will be completed. Your existing background check data from Info Cubic will be retained in each Applicant File by Hyrell in case you would like to reactivate it in the future.
Follow these steps to deactivate Info Cubic:
Select Marketplace then Background Checks from the menu.
On the Info Cubic card click Learn More.
Use the switch to toggle from Active to Inactive.
Confirm by selecting, YES, TURN THIS OFF.
A success notification will pop-up in the upper right corner to confirm the deactivation of Info Cubic background checks.
Note: Deactivating Info Cubic from the Hyrell Marketplace will not automatically remove related steps from existing Workflows. They will need to be updated separately.
Info Cubic Support
Info Cubic's Applicant Portal eliminates paper forms and provides a streamlined, intuitive screening process that both applicants and HR professionals demand. For Info Cubic support and additional background check information visit: https://infocubic.com/resources/reference-library.