The Certifications element contains information and certification statements that appear on the last page of the job application. In order to submit an application, a job applicant is required to check the box to document the review and confirmation of all content.
We recognize that business needs differ, so the certifications page is provided with standard certification language that users can edit. For example, you may want to include internal policies or a state-specific clause to align with your organization's preferences or requirements. Users with the permission of Job Template Creation will have the ability to access Certifications.
Follow these steps to edit the certification statement:
Select Applicant Elements from the menu and then select Certifications.
Use the text editor to update the certification text you would like to provide to your applicants.
Click Save when editing is complete.
Upon editing the certification, the changes will show on "Review & Submit" or the last page an applicant sees prior to submitting. Since this is a global system setting, any posted jobs at the time of updating will reflect the changes automatically.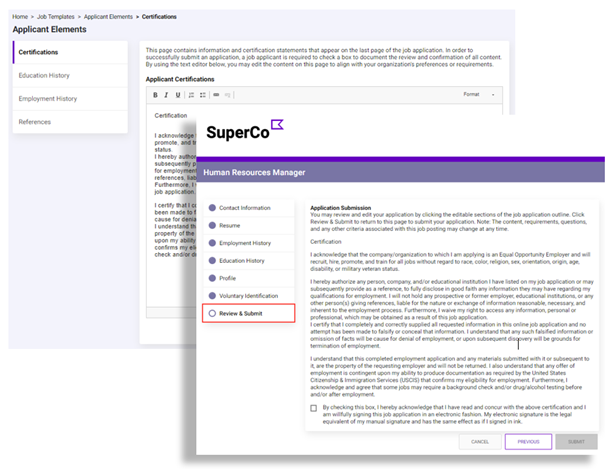 Note: Users cannot edit the certification page's "Application Submission" instructions or the checkbox acknowledgment statement.